The disenchantment of FANG+
Author - Florian König
What many market participants have been eagerly awaiting for weeks can finally be measured in concrete figures - the 3rd quarter reporting period is on the home stretch (at least in the United States). While in Europe the publishing is just picking up speed, in the U.S. a clear picture is already emerging after more than 400 companies of the S&P 500 have already published their respective quarterly results: The slowdown in earnings growth is manifesting itself, but it is not suffering a shipwreck. To some extent, this is due to already declining earnings growth expectations. Thus, a large number of companies were able to exceed these expectations. Caution is nevertheless warranted, as not all stock segments and sectors present themselves solidly. Especially the so far so solid FANG+ shares, are suffering in the current environment. We explain why.
Not so great any more
The MSCI USA ended October 2022 up nearly 8% (in U.S. dollars). However, this does not apply to all stock segments. The so-called FANG+ stocks, the flagship of growth stocks and standing for Facebook (now trading under Meta Platforms Inc.), Apple, Netflix and Google (now Alphabet), which also includes companies such as Microsoft, Amazon & Co., cannot breathe a sigh of relief. The downward slide continued and the relative negative performance also widened in October compared to the overall market. The former darlings are increasingly falling out of favor with market participants and recorded a decline of around 6.4% (measured approximately with the help of the NYSE FANG+ Index).
Only Apple holds its own
If we stick to the examples of Apple, Alphabet, Meta and Amazon, we can illustrate this year's downturn with the help of the market capitalization of the respective company. The result is quite impressive. At the beginning of November, the combined market value of Meta, Amazon and Alphabet was only the equivalent of Apple. If we recall the end of 2021, the picture was still contrary. In total, the three growth routiniers lost $2.3 trillion in stock market value. Apple, on the other hand, lost "only" around $700 billion.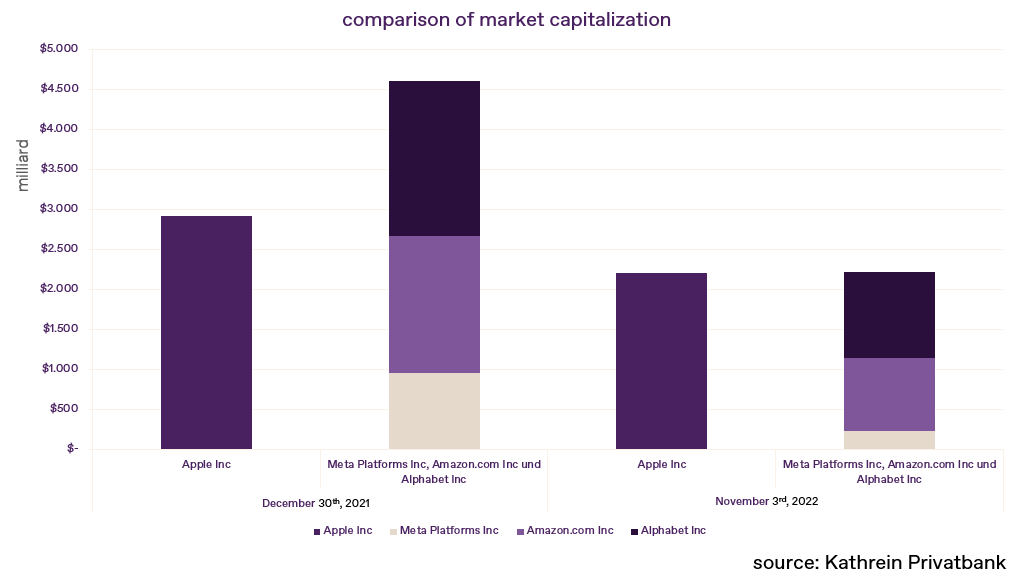 The reasons for this are of a different nature. On the one hand, all growth stocks are suffering more from the current rise in interest rates. The future growth fantasies and associated earnings increases are simply worth less at the present time due to the greater discounting associated with rising interest rates. On the other hand, business policy decisions, be it Meta's focus on the Metaverse (with little mature growth plans), changing consumer behavior due to the wave of inflation (as a noticeable burden factor for Amazon), or a beginning cutback in spending on the corporate side (with negative consequences for Alphabet's advertising revenues) are causing headaches.
Apple, on the other hand, has so far been able to largely avoid this trend - although sentiment around Apple was already crumbling during the writing of this text after it was announced that iPhone production would have to be scaled back due to an expected weakness in demand and China's zero-covid policy. The fact that the heavyweight has outperformed to date may be due to the fact that the company has been less of a Corona beneficiary, has felt less of a tailwind in recent years, and has therefore never reached such exaggerated valuation levels as some of its peers, or simply because the fog surrounding Apple will not clear until the figures for this year's Christmas business are published. For investors, it once again becomes clear: Sufficient diversification is and remains an irrevocable concept and confirms the premise "Winning more by losing less". After all, to make up for a loss of almost 75%, as Meta is doing to its US dollar shareholders this year, a plus of 300% is already required.
Cheaper doesn't mean always better
In view of the existing uncertainties, we therefore remain true to our previous line: In our Kathrein Investment Strategy, equities continue to be underweighted, although an improvement in the model-based assessment has recently become apparent. Within the equity portfolio, value stocks are preferred over the growth segment; however, growth stocks should not be completely neglected either.
A careful selection of themes and companies is required. Moreover, the focus should not be placed exclusively on low-cost companies, but rather on healthy companies. This is because there are often good reasons why companies appear favorable compared to their competitors or the market as a whole.
You might also be interested in
Kathrein Privatbank receives prestigious CFI Award "Best Private Bank Austria 2022
Read more